You cannot add ""Believe"" to the cart because the product is out of stock.
WANT TO BUY EARLY?
Unlock the Add To Cart button
30 minutes early
Turn
by TawnyFritz
To everything there is a season. Everything is temporary, both good and bad. We must learn to appreciate and revel in the good times and endure the bad times, because both are fleeting, even when they feel so very permanent and everlasting sometimes.
This piece is inspired by those ephemeral moments.
11″x14″ Ink and Liquid Gold Acrylic on Ampersand Claybord
ʷʰᵒ ᵈᵒᵉˢ ʰᵉʳ ʰᵃᶦʳˀ
Product Height: 14 inches
Product Height: 14"
Product Width: 11"
Product Width: 11 inches
Product Surface / Material: Ampersand Claybord

$425 $425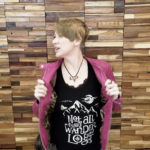 TawnyFritz
What day is it?

Tawny Fritz is from New Orleans. That should say all you need to know about the chaos that reigns inside her brainmeats, but how about some more info anyway? Tawny likes ink (a lot). She likes knives, nature, and for her art, confrontational subjects that stare into your soul. She also unironically loves long walks on the beach at sunset.

For personal commissions: info@tawnyfritz.com



EXTENDED GALLERY
Beyond the every day, these are pieces a little bit more than our daily offering.