WANT TO BUY EARLY?
Unlock 30 minutes early on our mailing list
True Colors
by Dianita
This painting was born of a sentence I've had engraved in my brain for a long time:
"Sometimes I wish I was the monster others think I am"
Medusa has become a strong symbol in my personal art. I was once convinced that she was a monster because all the stories about her said so, but in the past years I've also understood that stories change depending on the ones who get to tell them. Much like in our own lives, we believe in the perception that others have of us. In result we tone down just to be liked or to belong.
We conform and adapt to what others find comfortable, to their rules without believing we deserve to be ourselves. We deserve to have our own colors shine.
I tried to portray her not in a menacing way, but hopefully in a confident, relaxed way. With her snakes shining with the colors of the rainbow because what is happier than something super magical as a rainbow? It also made me think of the LGBTQ+ community in a way so it became a hidden little tribute to them as well.
Snakes are looking at her with kindness while some snakes are pointing at a feather. I chose to give her an owl feather, specifically a Little Owl (athene noctua- Athena's symbol) feather to symbolize her re-taking control of her own narrative while she looks peacefully at us.
This is a miniature painting made with acrylics and small hints of metallic paint in her and the snakes eyes. I decided to center the painting in a bigger 5in x7in piece of Arches hot press watercolor paper to give enough room for a mat.
She comes with a black mat with hand painted metallic bevel, on a 5in x7in frame.
Actual painting size: 2.5in x 3.5in
Paper size: 5in x 7in
Framed size: 7.25 in x 9.25in

$200 $200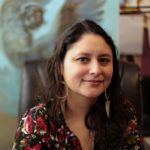 Dianita
Dianita is a fantasy artist born in Veracruz, Mexico. She has found that Fantasy provides her with the perfect language to portray her deepest emotions. It's where she finds freedom to explore fears, hopes and that wish for connection between all living creatures and our world.

Cover artist for Mermaids Monthly magazine (April 2021). Artist for "The Unbridled Spirit Tarot" (Llewellyn, 2024).