To No Avail
by Jenna Kass
Done as part of the Month of Fear project, for the prompt "Paralyzed"
For me, paralysis has never been the locked inability to act: instead, it's always manifested as abortive actions done with all my might. I worked savagely hard in all the wrong directions and never worked on fixing the things that were broken. I slammed into the ground over and over.
6.5″x9.5″, matted to 11″x14″
$300 $300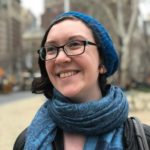 Jenna Kass
Jenna Kass is a New York City native who graduated from the School of Visual Arts with a BFA in Illustration. She works primarily with pencil and graphite powder, building up layers of light and shadow to balance subtlety and intense emotion within each piece.