WANT TO BUY EARLY?
Unlock the Add To Cart button
30 minutes early
The High Priestess
by KaitlundZupanic
As we enter the 12 days of Yule among other wonderful holidays this time of the year it is fitting to have "The High Priestess" for today's EDO.
The High Priestess sits at the gate of the conscious and subconscious mind that is just underneath the pool her horn touches. Embracing the subconscious mind she teaches us to be still and listen to what is happening around and inside of us. Granting deep wisdom and enlightenment of the inner workings of the universe, knowledge, and hidden information.
The chrysanthemum moon represents inner illumination and divine insights while the dragon provides nurture and care for the tree that grows the chrysanthemum. Embrace nurture, trust, sense, and empathize.
8″x5″ Graphite and marker on art paper
Height: 8"
Width: 5"

$200 $200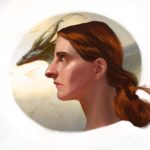 KaitlundZupanic
A fantasy illustrator of the dragon varaity.
EXTENDED GALLERY
Beyond the every day, these are pieces a little bit more than our daily offering.