WANT TO BUY EARLY?
Unlock 30 minutes early on our mailing list
The Goodliest Land
by Kaysha Siemens
I've been traveling for the past couple weeks, and I miss my home in western North Carolina, in the lush forested mountains, thickets of rhododendron everywhere. I've luckily managed to finish this little piece that reminds me of home in snatches of time here and there on the road.
There's also a bit of irony involved. My friend who modeled for this piece has been in the process of transitioning over the past couple years, and while I was working on this piece, faced a sudden and unexpected battle for coverage of their top surgery with NC's biggest health insurer, out of the blue just 2 days before their procedure. It was a rollercoaster of grief and stress, and ultimately a victory and huge relief, but the "goodliest land" part sure felt tenuous for a while there.
Graphite on vintage library date-due card, 3×5 inches, and will be mounted and matted to fit any 5×7 inch frame.
Please note: the image of the matted piece is from a previous EDO piece, to show what it will look like once I'm back home in a few days.
$215 $215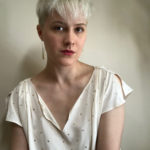 Kaysha Siemens
I was born and raised in Canada, and now make my home near Asheville, NC, USA. My work is primarily figurative and narrative. I work mainly in oil and graphite. My current primary focus is Mnemosyne, an ongoing project inspired by Greek myth.

My goal is the object of beauty, but that goal is achieved through engagement in process, and neither aim is worthwhile without meaning and intention. I seek to talk about the ordinary with the language of story, to arrest with exquisite imagery, and ultimately to leave viewers with a feeling, a lingering sense, that they have had a brush with the sublime.