WANT TO BUY EARLY?
Unlock 30 minutes early on our mailing list
The Eye of the Storm
by Amelia Leonards
Caught between light and dark, black and white, good and evil, the Magpie flutters through the eye of the storm.  Whispers hiss and snap around her, each and every word a contradiction.  Is she beautiful?  An evil omen?  A guide?  A thief?
There's a place in France where bunches of heath and laurel are tied to the top of high trees in her honor. In England she and her people are a source of divination- one for sorrow, two for joy.  Throughout most Native American cultures she is seen as ally and helper, but in Scotland there's a legend that she keeps a drop of the devil's blood beneath her tongue.
Does she care?  Or do the concerns of this world fall from her like so much inane, senseless chatter?  Does she simply fly on, through sun and shadow, flitting like a ghost at the edges of the world?
Just like her owl brethren, this piece looks amazing in a gold frame, BUT will be sold and shipped in a white mat.  Why?  Two reasons: A- maybe our frame tastes are WILDLY different, and you'd like to pick your own, and B- the birds have an easier time flying to you without glass.  Glass makes them nervous.
Watercolor on 140lb Cold Press
Image size: 7.5 X 9.5″
Mat size: 11 X 14″
Product Height: 9.5"
Product Surface / Material: 140 lb Cold Press
Product Width: 7.5"

$350 $350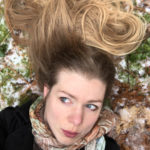 Amelia Leonards
Amelia Royce Leonards is a graduate of Montserrat College of Art in Beverly, where she spent four years baffling her peers and professors with drawings of goddesses and antlered women. Her work is influenced by the beauty of ancient myth, folklore, and the natural world around us. She can usually be found somewhere deep in the woods, sketching odd creatures and eating chocolate chips.