WANT TO BUY EARLY?
Unlock 30 minutes early on our mailing list
The Coral Fairy
by Dianita
This painting is based on Lorraine Schein's poem with the same title. It was commissioned by the staff of Mermaids Monthly e-zine to be their April 2021 cover.
My art director was Meg Frank, they wished to have a softer color palette for this cover. We chose pastel colors which added a different feel to this illustration next to the other amazing covers published at the time.
When I read the poem, I thought of lack of sun since this fairy is part of a coral reef and can't swim like other mermaids. The idea of her skin color came from my Mom, who has vitiligo since she was young. She couldn't be in the sun for long periods of time, being cautious of the sensitive nature of her skin. It all played well since coral is also sensitive and can bleach if it's touched or hurt in any way.
All I remember from painting this piece was the amazing images I had to look at for reference. I looked for coral reefs in Quintana Roo, Mexico to add a hint of the beauty from my country. Then, I found photos of other coral reefs in the world and I couldn't help but to feel marveled. The beauty that exists in this world can't be expressed with words!
It was so fun to paint the red coral and the fish going around. And to imagine her little big world where she lives and thrives. It also reminds me to the feeling when we stop looking around to find peace and happiness. We become whole when we realize the power and love that exist within us. I wouldn't trap drowning people to make them my companions, but you get what I mean, right?
You can read Lorraine Schein's poem in the Mermaids Monthly archive: https://mermaidsmonthly.com/2021/04/20/the-coral-fairy/
Artwork details
Oils on panel. Varnished with gloss varnish. Created in 2021.
This painting measures 12in x 16in.  It includes a thin frame with bronze details with an approximate total size of 13 x 17in. Comes ready to hang.
Colors might show differently in your devices.
International orders
Customers that live outside the U.S.A might be subject to custom fees. Like E.U's VAT. Please, note that you will be responsible of paying this fee to receive this package in your country.
Thank you!
$3,700 $3,700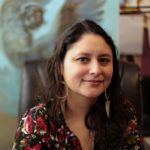 Dianita
Dianita is a fantasy artist born in Veracruz, Mexico. She has found that Fantasy provides her with the perfect language to portray her deepest emotions. It's where she finds freedom to explore fears, hopes and that wish for connection between all living creatures and our world.

Cover artist for Mermaids Monthly magazine (April 2021). Artist for "The Unbridled Spirit Tarot" (Llewellyn, 2024).