The Brink
by Hilary Clarcq
It's scary and unsettling to be at the edge of one's comfort zone or feel like an outsider. It can rattle you to your core. But the edges, the fringes, the brink: that's also where the growth happens. And I'll take growth over comfort any day.
This 5″x7″ oil painting comes ready-to-hang on a 3/4″ deep cradled panel with black edges.
Details: Oil on cradled panel, unframed, signed in lower left
Height: 5"
Width: 7"
Depth: 3/4"

$250 $250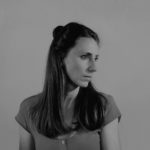 Hilary Clarcq
Hilary Clarcq creates mood-driven, figurative oil paintings. She has exhibited with galleries such as Abend Gallery, Helikon Gallery, and (yay!) Every Day Original. In 2019, she was one of three artists selected for the Muddy Colors Rising Stars Award. She has a B.A. in Fine Art and English from the University of Colorado, but she is self-taught as an oil painter. Hilary was born in upstate New York and currently lives in Boulder, Colorado.