WANT TO BUY EARLY?
Unlock 30 minutes early on our mailing list
Ten Golden Crows
by Rovina Cai
6.5 x 8.5 inches (matted to 8 x 10 inches)
Watercolour & coloured pencils on paper.
The Jīnwū (Golden Crow) is a creature from Chinese mythology. They are often featured in stories as a symbol of the sun and usually depicted with three legs;
"There were once ten Jīnwū that lived in a great mulberry tree. They flew out each day, one at a time, taking turns to transform into the sun and travel across the sky. One day, all ten Jīnwū flew out together and the world began to burn. So a legendary archer named Houyi took up his bow, and in a flurry of arrows and golden feathers, he shot them down until only one remained."
$250 $250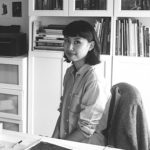 Rovina Cai
Rovina Cai is a professional time traveller and vampire hunter currently based in Melbourne, Australia. She also draws things.