WANT TO BUY EARLY?
Unlock 30 minutes early on our mailing list
Surefoot's Vessel
by Emily Poole
Surefoot's Vessel
adventuring gear (wondrous item)
Category: Items
Item Rarity: Rare
Weight: 1
Roll up, good traveler, roll up! You're in luck, you are. I have just this week procured this treasure- a vessel enchanted by the Bighorn prince himself, stolen from his mountain stronghold and sold to me by a half-mad Grayjay bandit. It provides protection on the road; all you have to do is take a bit of plant or earth from the ground where you're traveling, put it inside, and the terrain and weather will be fair and easy for your journey. Funny thing, though… every night since I've had it I've woken up to the sound of distant hoofbeats.
Product Height: 4 inches
Product Width: 5 inches
Weight: 10 ounces
Materials: Clay, waxed thread, ponderosa pine needles

$225 $225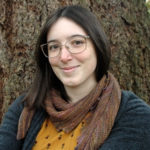 Emily Poole
Emily Poole is a natural history illustrator living in the mossy hills of Oregon. She can be found exploring tidepools and cliffsides, gathering inspiration and making artwork about our fellow species and how to be better neighbors with them.