Strawberry Saint Honoré Crabcake
by Corina St. Martin
If you happen to visit a French café along the seashore you just might catch a glimpse of this flamboyant creature. The Saint Honoré Crabcake is as elusive as the truth from Trump's mouth so you will have to be diligent in your search. But take heed! It is said that the Saint Honoré Crabcake will toss it's strawberries if you get too close.  It is highly suggested to bring your own strawberries as an offering. If the Crabcake accepts your gift and sticks them on it's head then well, nothing happens, it's just a crab that likes strawberries. But it is a nice gesture on your part. If you'd rather not bother with the hunt then this particular Crabcake will be happy to taunt you as well, but it will be bringing along a wee beastie in training.
Product Height: 6 inches
Product Width: 5 inches
Depth: 7 inches

$300 $300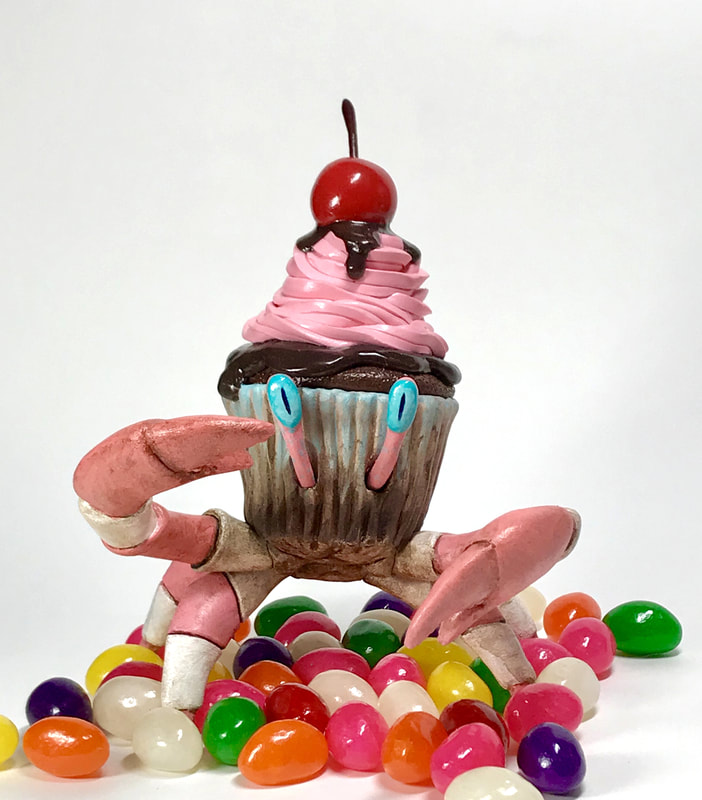 Corina St. Martin
I am a sculptor and illustrator living in Richmond, Indiana. Wildlife, surrealism and storytelling are the main interests that I bring to my work. More recently I've been playing with the ideas of candy characters who have certain mishaps. Each character has a story and collectively they belong in the Dirty Candy Shop. I hope you enjoy them as much as I enjoy creating them!