WANT TO BUY EARLY?
Unlock 30 minutes early on our mailing list
Snazzberry Sherbet Hermit Crab
by Corina St. Martin
The Snazzberry Sherbet Hermit Crab is a funny little chap in the hermit family. They are well known for provoking the baby kraken that spend much of their time basking in the warm waters of Mermaid Cove, these little instigators harass the babies making them ink which the crabs think is hilarious. Pranking any visitor that travels to the cove seems to be their favorite past time, even blowing snazzberries at marauding pirates is fair game. They do this at their own risk of course but what's life all about if not for having some fun at the expense of others? They do however tend to end up as a tasty treat themselves more often than not.  Kraken do get bigger after all and they are slow to forget who made them ink first.
Product Height: 6"
Product Width: 5
Depth: 5"

$475 $475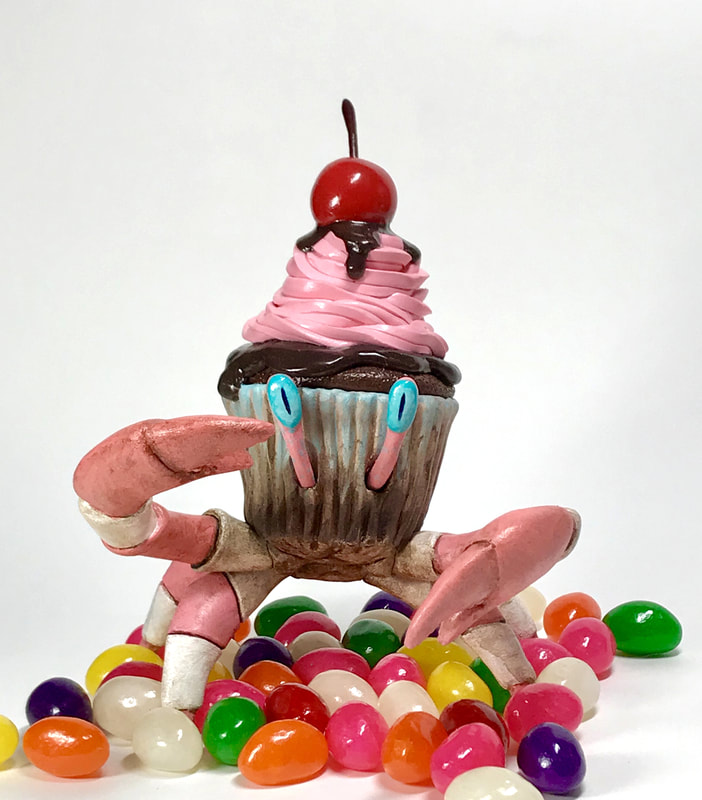 Corina St. Martin
I am a sculptor and painter living in Richmond, Indiana. The work that I've been creating for the past couple of years combines my love of animals, desserts (mostly fancy), bright colors and surrealism. My overall goal is to bring more joy into the world through the creation and sharing of my sculptures and paintings. I hope they bring a smile to all who see these funny characters!

Other ways to support my work
Shop: www.corinastmartin.com
Patreon: www.patreon.com/corinastmartin
Abend Gallery: https://abendgallery.com/artist/corina-st-martin