Senin
by Charis Loke
Sunlight streams through the forest canopy, making shifting patterns of light and shade as Senin moves quietly towards the great tiger… 
An ink study as part of my ongoing project Kejora, which is illustrated microfiction rooted in Southeast Asian cultures and realities. This was inspired by a few pages from Carl Bock's account of his travels in Sumatra; he mentions engaging a hunter named Senin, who is described as an intersex person. Senin was known for his strength and courage. I imagined him on the hunt in the rainforest, dressed in his sarong and long shawl, seeking an elusive prey. This will be developed into a full illustration and story in the near future.
3.5×5″, ink and pastel on printmaking paper. Optional frame with glass included.
Product Height: 5"
Product Width: 3.5"
Product Surface: Fabriano Rosaspina paper

$200 $200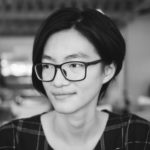 Charis Loke
Charis Loke is an illustrator and editor based in Penang, Malaysia. Drawing upon literature and visual culture, she makes pictures that evoke wonder and curiosity, depicting fictional worlds and current issues in ink.

Formerly an artist-in-residence at Rimbun Dahan, Charis is creating illustrated microfiction inspired by Southeast Asia. She designs geeky garments, makes maps for fantasy worlds, and has documented street protests through drawing. Her work has been recognized by the Society of Illustrators Los Angeles and shown at Light Grey Art Lab as well as other galleries around the world. [http://charisloke.com]



HOLIDAY SHOPPING?
We are gifting FREE shipping through Dec 23rd
CHECK OUT THE LATEST RELEASE