WANT TO BUY EARLY?
Unlock 30 minutes early on our mailing list
Pandora's Power
by Emily Poole
The Pandora pinemoth (Coloradia pandora) and Bitterroot (Lewisia rediviva) are two high desert species whose life cycles weave in and out of the earth. The Pandora pinemoth digs into the dirt as a caterpillar and performs metamorphosis underground before emerging to lay eggs in the trees. The bitterroot plant puts out succulent greenery in the spring, followed by ephemeral pink flowers which both swiftly wither to nothing as the plant waits out the dry season beneath the soil. Both species call to mind just how vast the stores of energy are that slumber just under the surface of the earth, contained in organisms like these as they wait patiently for their season.
Both the root of the Bitterroot and the pupae of the Pandora pinemoth are traditional indigenous food sources for the Paiute, Klamath, and Modoc tribes in south and eastern Oregon.
Ink, watercolor, & gouache
5×7″ unframed, 8×10″ total framed dimensions
$325 $325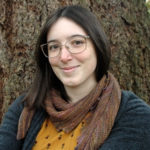 Emily Poole
Emily Poole is a natural history illustrator living in the mossy hills of Oregon. She can be found exploring tidepools and cliffsides, gathering inspiration and making artwork about our fellow species and how to be better neighbors with them.