WANT TO BUY EARLY?
Unlock 30 minutes early on our mailing list
Wee Misfits Three
Have you ever wondered, "Hey, where can I find some trustworthy candy familiars?" Well if the answer is yes then feast your eyes on these little bon bons. We have Nigel, Fritz and Collin ready to serve you in any of your mischievous deeds as long as you aren't going to break the law or eat any of their candy friends. I know that may sound a bit limiting but trust me, you don't want to make these little ones angry. Nigel can be a very loyal friend and his favorite hobby is traveling to boutique candy shops around the world. Fritz is a true leader who loves puns and sarcasm! He thinks he's funny but Nigel is the true comedian of this lot. Colin speaks with a thick Gaelic accent and nobody really knows what he's saying most of the time. But when he gets to singing a good sea shanty you may just shed a tear or two. So invite these three misfits into your home and live a life of adventure!
Nigel – Chocolate Covered (Mostly) Cherry
Fritz – Ice Cream Cookie Sandwich
Colin – Scotch Whiskey Mint Meltaway
Each sculpture is roughly 2.5″ Tall on 2″ Base
$225 $225
EDO now offers installment plans.
No interest for 6 months.
Just click Paypal Credit on the cart page.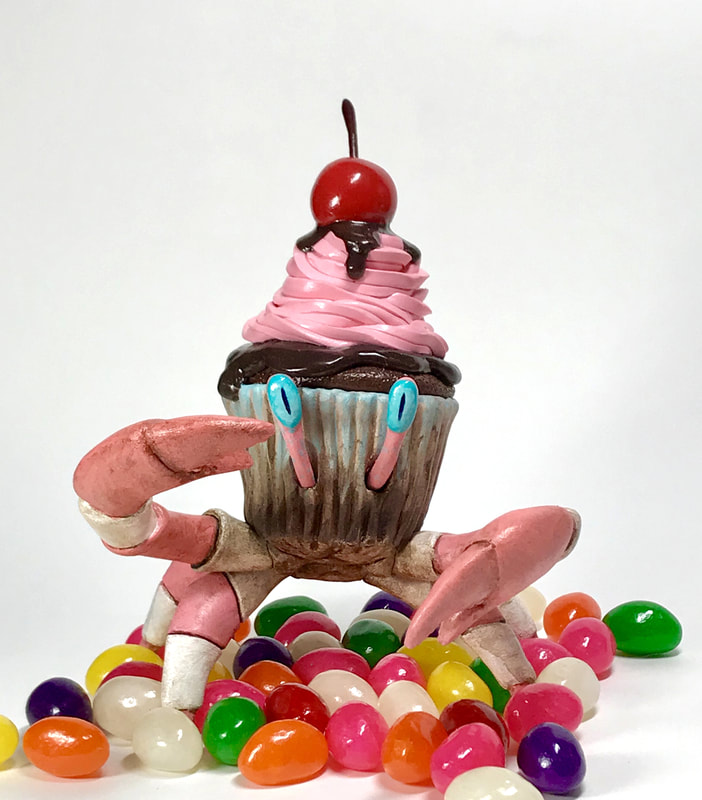 Corina St. Martin
I am a sculptor and painter living in Richmond, Indiana. The work that I've been creating for the past couple of years combines my love of animals, desserts (mostly fancy), bright colors and surrealism. My overall goal is to bring more joy into the world through the creation and sharing of my sculptures and paintings. I hope they bring a smile to all who see these funny characters!

Other ways to support my work
Shop: www.corinastmartin.com
Patreon: www.patreon.com/corinastmartin
Abend Gallery: https://abendgallery.com/artist/corina-st-martin