WANT TO BUY EARLY?
Unlock 30 minutes early on our mailing list
Nothing is Everything
by Hope Doe
When the Cicadas (semi) come out start their songs here in Japan, it's a sign that summer has come, and when the calls slowly fade away, summer it at it's end.
This summer has been a hard one for me.  I have been dealing with inflammation in my arms and neck that still hasn't healed yet, but getting better.
As a symbol of resurrection, it is very fitting to paint a cicada as my first painting in a 2 month hiatus from doing art.
5″ by 7″ (127mm x 173mm) sumi ink and liquid acrylics on Arches watercolor.  Fully framed.
***Frame is on order and will arrive late. Picture shown is a simulated picture of framed work****
The Frame includes UV protection plexiglass
Product Height: 7"
Product Width: 5 inches
Product Surface / Material: Arches Hotpress Watercolor Paper

$350 $350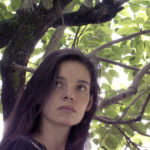 Hope Doe
Hope is an American artist currently residing in Mie, Japan. With her interests in Japanese traditional arts and growing up in a western culture, she creates a unique blend of the two influences. Her work has a strong sense of narrative, which contains a tinge of mystery and the unknown. Her artwork is often molds humanity with the natural world giving the sense that humanity is one in the same, and shouldn't be a separate entity.

Her work contains a variety of mixed media, including sumi, graphite, oils, and watercolors.