WANT TO BUY EARLY?
Our collectors get 30 minutes to buy before anyone else.
Nostalgia for Freedom I
by Angelika Rasmus
This painting explores the feelings of nostalgia for simpler times and a longing for a free mind. First one of a small watercolor series featuring different types of birds.
Framed (includes glass not shown in picture to reduce glare).
The painting measures 8.3 x 11.7 inches (21 x 29.7 cm)
Frame is 10 x 13.2 inches (25 x 33.5 cm)
Watercolors on 140 lb hot pressed paper
Height: 11.7"
Width: 8.3"
Surface: Hot-pressed 140 lb watercolor paper

$250 $250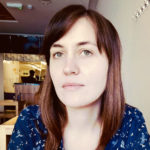 Angelika Rasmus
Angelika is a Polish artist currently residing in Leicester, UK. She works predominantly in watercolors and pencils, creating melancholic portraits and figurative paintings with a hint of surrealism. Her work often features animals as metaphors and symbols for many different topics. She takes inspiration from every day issues that people struggle with and the rapidly changing connection between nature and humanity.

www.angelikarasmus.com



EXTENDED GALLERY
Beyond the every day, these are pieces a little bit more than our daily offering.