WANT TO BUY EARLY?
Our collectors get 30 minutes to buy before anyone else.
Night Rambler
by Emily Poole
As rainclouds dissolve into a low mist among the steep hills of the Pacific coast, moonlight reaches the damp forest floor. A salamander ventures out from her nook in the bark of an old Douglas fir stump. She is drawn to the bright coin of a moon that lies reflected in a pool of rainwater, caught in the cup of a nearby mushroom. The climb to the top is laborious, but to a lungless salamander the wet night air is life itself, and after months of dry hibernation the first rain has opened the world wide once again.
The species depicted here are an Oregon ensatina (Ensatina eschscholtzii) and a wooly chanterelle (Turbinellus flocossus). This painting was created with ink, watercolor, and gouache, and its frame is handmade from spalted yellow birch. The total dimensions of the framed work are 10″x12″.
Product Height 12": 12"
Product Width 16": 10

$375 $375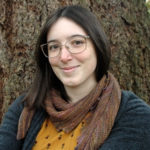 Emily Poole
Emily Poole is a natural history illustrator living in the mossy hills of Oregon. She can be found exploring tidepools and cliffsides, gathering inspiration and making artwork about our fellow species and how to be better neighbors with them.
EXTENDED GALLERY
Beyond the every day, these are pieces a little bit more than our daily offering.