WANT TO BUY EARLY?
Unlock 30 minutes early on our mailing list
Mary Shelley's Frankenstein
by Rebecca Yanovskaya
"Inspired by the cold bleakness of the far north where they meet one last time, I seek to portray the Monster with empathy denied him in life. Etched on his face is the pain of existence as foisted upon him by Frankenstein. I modeled his figure after the ideal male of antiquity, which I believe Frankenstein would have used as template, and arranged their poses for final rest: Frankenstein as pitiful as his true character; his Monster in dignified repose."
Mixed Media; 23k Gold Leaf, Acrylic, Ballpoint Pen on Cradled Board
Dimensions:0.75x11x14"
Framed Dimensions: 1x13x16"
$1,950 $1,950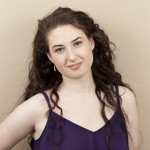 Rebecca Yanovskaya
Rebecca Yanovskaya is a freelance illustrator working in the fantasy, sci-fi and horror genres. She frequently illustrates mythological stories, natural forces, and aesthetically strong characters. Rebecca's influences include decorative arts, neoclassical and Pre-Raphaelite arts, and theatrical costuming.
Rebecca is a graduate of the Illustration program at Sheridan College. She lives and works in Toronto, Canada.