WANT TO BUY EARLY?
Unlock 30 minutes early on our mailing list
Luna
by Tiffany Budzisz
"Luna" is a magical moon rabbit. Hand cut, sculpted, and layered paper.
8″ x 10″, framed in a black shadow box.
Product Framed size: 9.5"w x 11.5"h x 2.5" d

$499 $499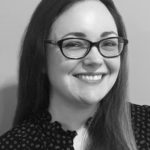 Tiffany Budzisz
Flora and fauna (real or imagined), nature, and symbolism are subjects I find fascinating and often explore in my work. The beauty of the natural world is often found in the details. My goal is to inspire the viewer to slow down and appreciate the intricacies found in life (and art), that are often overlooked in our busy, everyday lives.

I create my paper sculptures by cutting intricate shapes from archival paper with an X-Acto knife. I curve the individual cut shapes with a dowel, then glue the pieces together between layers of foam core to create dimensional works of art. While this may seem tedious to some, the process of cutting, shaping, and creating are moments of pure happiness for me.