Krampus
by Kelley Hensing
Krampus has a long history, believed to date back to pre-Germanic pagan times. He was later incorporated into various European Christmas traditions, following along side St. Nicholas as a dark companion. St. Nick took care of the good children while Krampus helped discipline the bad, (and in some cases carried them away with him in his basket).
The demon-like figure carries a bundle of birch branches that can be used as switches and he is often portrayed with chains, which are thought to symbolize attempted limitations by the Christian Church. Some stories say he lured children with treats or that he could be distracted himself by an offering of fruit.
Also a thank you to someone special. While I don't think a Christmas demon was what she had in mind, she had suggested that since it's December I should do something holiday-themed. Thanks mom!  : )
Happy Holidays to All~
Art size: 10.5 x 13.5 in; Total size with frame: 15 x 18 in; Frame is wood with glass front.
$370 $370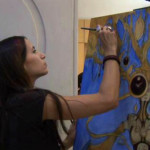 Kelley Hensing
Kelley is an artist residing in Brooklyn, NY. She earned her MFA from the School of Visual Arts and her BFA from the Rhode Island School of design. Her favorite medium is oil paint and she loves to create her work by hand. She is fascinated with deciphering the myths and symbolism behind all types of religions. She believes being well-read in a variety of subjects is an important element to bring depth to art making, with a few of her favorites being psychology and scientific discovery. Traveling is her only other passion equal to a career in art and is a vital component of inspiring her work. In her art making she explores hidden meanings behind obscure stories, influenced by a mix of genres from the gothic and steampunk to classic fantasy and legends.
You can follow her work and adventures on instagram
@KelleyHensing



HOLIDAY SHOPPING?
We are gifting FREE shipping through Dec 23rd
CHECK OUT THE LATEST RELEASE