WANT TO BUY EARLY?
Unlock 30 minutes early on our mailing list
Janus
by Alex Stone
Roman god of time, transitions, beginnings, and endings. He possesses two faces, to look into the past as well as the future.
Product Width: 5"
Product Height: 7"
Medium: Acrylic
Product Surface / Material: Ampersand Pastelboard
Frame: Unframed

$250 $250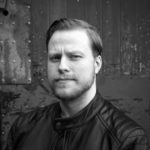 Alex Stone
Alex Stone is an artist and illustrator from Brooklyn, New York, currently based in Melbourne, Australia.

Alex's passion for painting is fueled by a love of narrative visual storytelling, and his vibrant work often recalls a sense of awe and nostalgia. He has been drawn to fantastical subject matter since he was young, and painting has always been a way for him to express his love of the genre. Alex graduated with a BFA from the Illustration program at the Fashion Institute of Technology. Since then, his work has found its way into books and card games, and is also a part of numerous private art collections.