WANT TO BUY EARLY?
Our collectors get 30 minutes to buy before anyone else.
Inner Self
by Steven Black
As I've been exploring pieces in my Flower Girl series,  more layers of meaning have been unfolding. The expression of self we present to the world and our true nature, our "Inner Self" is one I come back to often. Also in the layers are ideas of nature around us and inside us. They are all flawed girls and I find beauty in those imperfections. The flowers are a visual representation for the beauty in the flaws.  I'm looking forward to living in this theme for a while and following its natural visual ends.
$195 $195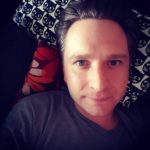 Steven Black
Painter with an obsessive compulsion to champion the odd, fringe, or otherwise unappreciated.
For commissions or questions:
email: shapess@gmail.com



EXTENDED GALLERY
Beyond the every day, these are pieces a little bit more than our daily offering.