Hohoemi
by ReikoMurakami
A couple months ago I had a figure drawing session with a great model. This piece is based on a sketch I did from the session, further experimenting with more subtle depiction of emotional tones. Lately my process is all about the layering of drawings and tracing paper. I think the process of finding a balance between creating the drawing and hiding what I've done is fascinating.
3×3 Mixed media in a 7.75×7.75 desktop frame.
$200 $200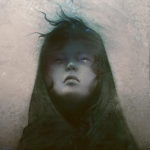 ReikoMurakami
Reiko Murakami, also known as Raqmo is a U.S. based concept artist and illustrator specialized in surreal fantasy and horror characters. Her work has been published in Spectrum, Infected by Art, ArtOrder Invitational: The Journal, Exposé, 2D Artist and many others.
HOLIDAY SHOPPING?
We are gifting FREE shipping through Dec 23rd
CHECK OUT THE LATEST RELEASE