WANT TO BUY EARLY?
Unlock 30 minutes early on our mailing list
Garden Visitor
by Emily Poole
Summer in the garden: the neat velvet caps of poppies are askew, allowing tightly curled petals to unfurl in the warm breeze. The hoarse corvidian cry of a magpie breaks the peace of the afternoon, and a black-and-white flash with long tailing streamers darts through the foliage in search of seeds.
This ink and watercolor painting features a golden metallic ink background and is archivally framed with museum glass and a maroon velvet mat. The total dimensions of the framed work are 9.5″x12″ (7.5″x5″ unframed).
$425 $425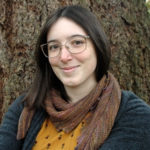 Emily Poole
Emily Poole is a natural history illustrator living in the mossy hills of Oregon. She can be found exploring tidepools and cliffsides, gathering inspiration and making artwork about our fellow species and how to be better neighbors with them.