WANT TO BUY EARLY?
Unlock 30 minutes early on our mailing list
Galinn Seas
by Sam Hogg
'Sailors passed down tales from father to son of the valiant whalers who braved the Galinn Seas. Its depths unfathomable, it's surface tumultuous, its creatures large and dangerous. Mightiest of all were the giant horned whales, nicknamed 'lumos' for their bright blue underbellies. Too mighty to hunt, to them went the respect of many a sailor who found his way to shore by luminescent blue guidance where otherwise he would be lost at sea.'
Approximately 6 x 4 inches, watercolour ink and coloured pencil on watercolour paper. The painting also includes some glow in the dark, shimmering pigment along the underbelly of the whale.
Complete with a chunky, rustic wooden frame, the image is part of The Whaler Girl project created by the artist.
Height: 6"
Width: 4"
Surface: Watercolour paper

$275 $275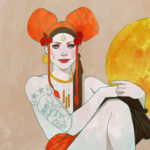 Sam Hogg
With a love of fantastical and narrative imagery, illustrator and concept artist Sam Hogg's career has spanned a multitude of genres across the entertainment industry. She has worked with clients such as Playground Games, Blizzard, Dark Horse Comics, Critical Role, Rocksteady and many more over the course of her 10-year career. Beyond her professional work, she can be found bringing her elegant, feminine aesthetic to a dark fantasy world of whalers and pirates in her personal project, The Whaler Girl.