WANT TO BUY EARLY?
Unlock 30 minutes early on our mailing list
Fox Fire
by Amelia Leonards
She is suspended between air and water, a living flame flashing above the dark mossy depths.  Fire flares and sparks from her tail and lanterns stream behind her as she spirals down, down, pawtip just grazing the limpid surface below.  A ripple, a gleam, and Earth, Air, Fire, and Water are united in a shimmering dance.
Everybody loves foxes, and I mean EVERYBODY.  I'm not exaggerating.  I hear the question 'do you have any foxes?" so often that I'm considering devoting a half of my display to the glorious furballs.  And honestly, why not?  They're featured prominently in folklore from around the world, from the cunning Kitsune of Japan to the Fire Bringer of Southwestern Native American stories.  They're adaptable, intelligent, playful, and mysterious.  I admit that their mystique has been lessened a tiny bit by watching our neighborhood foxes play on the Camaro parked down the street, but they still manage to look fairly elegant as they yip and jump. (The neighbor is less than thrilled.)  But I have JUST enough wonder for their elusive glamor that this piece came naturally, flowing from my brush with a spark and a soft, almost inaudible yip of approval.
Much like the owls, the fox will ship matted as opposed to framed- I feel people are happiest buying a frame that matches their décor, AND traveling behind glass makes free-spirited foxes nervous.
Watercolor and White Ink on 140 lb Cold Press, 7×11″
Product Width: 7"
Product Height: 11"
Product Surface / Material: 100% cotton watercolor paper

$375 $375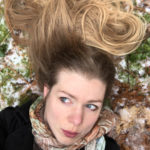 Amelia Leonards
Amelia Royce Leonards is a graduate of Montserrat College of Art in Beverly, where she spent four years baffling her peers and professors with drawings of goddesses and antlered women. Her work is influenced by the beauty of ancient myth, folklore, and the natural world around us. She can usually be found somewhere deep in the woods, sketching odd creatures and eating chocolate chips.