WANT TO BUY EARLY?
Our collectors get 30 minutes to buy before anyone else.
Forget Me Knot
by HopeDoe
This is a revision of an older piece that I had made years ago. This painting is about creativity and the connections we make from it.
4″ by 6″ sumi ink and watercolor on Arches watercolor paper. Fully matted and framed. The Frame is 5″ by 7″   The frame includes glass, but is not shown in the picture.
A portion of the sale of this painting will go to the ACLU-American Civil Liberties Union. An organization fighting for civil injustices including the fight against racial injustices, voter's rights and many other civil rights issues.
Product Height 12": 6 inches
Product Width 16": 4 inches
Product Surface Linen: 100% cotton watercolor paper

$300 $300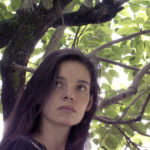 HopeDoe
Hope is an American artist currently residing in Mie, Japan. With her interests in Japanese traditional arts and growing up in a western culture, she creates a unique blend of the two influences. Her work has a strong sense of narrative, which contains a tinge of mystery and the unknown. Her artwork is often molds humanity with the natural world giving the sense that humanity is one in the same, and shouldn't be a separate entity.

Her work contains a variety of mixed media, including sumi, graphite, oils, and watercolors.



EXTENDED GALLERY
Beyond the every day, these are pieces a little bit more than our daily offering.