WANT TO BUY EARLY?
Our collectors get 30 minutes to buy before anyone else.
For a Fire
by Hilary Clarcq
I've heard creativity compared to a cycle of breath. During the inhale, artists absorb various types of stimuli. With the exhale, that inspiration is transformed into something outward: the art in whatever form it takes.
I'm undergoing a prolonged inhale right now: absorbing a lot, but unsure what to do with it quite yet. It can feel like I'm not being "productive" since I'm not actively producing much. But I'm trying to see this time as an essential period to gather dead wood and detritus as fuel for later fire and action. This painting is a reflection on that idea.
Details: Original oil painting on 7/8" deep cradled panel with black edges. Ready to hang, unframed. Signed in lower left.
Height: 7"
Width: 5"

$365 $365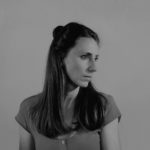 Hilary Clarcq
Hilary Clarcq is an illustrator and gallery artist. Her oil paintings often favor symbolism over literal narrative, and they tend to have a surreal or dreamlike quality. Her work has been recognized by Spectrum Fantastic Art, Illustration West, and Infected by Art. In 2019, she was one of three artists selected for the Muddy Colors Rising Stars Award. Hilary was born in upstate New York and currently lives in Boulder, Colorado.
EXTENDED GALLERY
Beyond the every day, these are pieces a little bit more than our daily offering.