WANT TO BUY EARLY?
Unlock 30 minutes early on our mailing list
FLORA
by greg ruth
An early graphite drawing of a ghost character in a new forthcoming graphic novel. I find I come to my characters far more effectively by drawing them over and over again like this. While the story is contemporaneous, the story goes that Flora passed during the Great Spanish Flu Epidemic in Philadelphia, 1912. She was particularly fond of monster stories, and Dracula in particular perhaps due in no small part to her father's fondness for gothic horrors and penny dreadfuls. Here she poses with a pair of broken toothpicks in her mouth.
The piece measures 8 1/2 x 11″ on Strathmore "Alexis" 400 series drawing paper.
$485 $485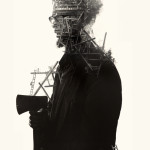 greg ruth
​Greg Ruth is a New York Times Bestselling Author of The Lost Boy and has worked making books and comics since 1993. He is published through The New York Times, DC Comics, Fantagraphics Books, Caliber Comics, Dark Horse, Harper Collins, Macmillan, Hyperion, Simon and Schuster, Random House, Slate, CNN, Penguin, and Tor. He has created two music videos for Prince and Rob Thomas, and has worked on nearly a dozen children's picture books including Our Enduring Spirit (with Barak Obama), Red Kite, Blue Kite (with Ji Li Jiang), A Pirate's Guide to First Grade ( and Recess) (both with James Preller), and his latest from Feiwel & Friends entitled Coming Home. His comics work includes Conan: Born on the Battlefield (with Kurt Busiek), Freaks of the Heartland (with Steve Niles), Sudden Gravity, The Matrix Comics and Goosebumps with R.L. Stine and is currently wrapping up (INDEH with Ethan Hawke). He lives and works in Western Massachusetts.