WANT TO BUY EARLY?
Unlock 30 minutes early on our mailing list
Flame
by Amelia Leonards
Do you ever wonder who other animals call out to when they're in fear or hope or pain? Due to a childhood of Watership Down, Tailchaser's Song, Bambi (the book, highly recommend) and ALL of the Redwall books, they're still my favorites- I think about it a lot.
I've been exploring foxes in particular lately, because they're beautiful and quirky and awesome, and I suspect they would (Do? Do.) have a complex pantheon.
And that's how we got here:
The fire of the sun brings life and light, but also scorches and burns. There's a balance there, between nurture and destroy.  The Flame is fierce, wild, aggressive, and she often burns so bright that we're blinded, we have to look away- but she doesn't notice or care.  She's too busy dancing through the snow, watching ice melt with each step she takes, and smiling at the flowers that spring up in her wake.
My first reaction when I finished was "whoops, I've painted the Devil Tarot card as a fox", my second reaction was "this looks like the cover for a heavy metal album", and my third was "you know what? I bet foxes get pretty metal." (The fourth was "I'm going to add a Slavic Pagan Sun Symbol behind her, whee!"  Bonus points if you're familiar with the Kolowrat.)
As always, this piece looks amazing in a gold frame, BUT will be sold and shipped in a white mat.  Why?  Two reasons: A- maybe our frame tastes are WILDLY different, and you'd like to pick your own, and B- foxes, like owls, have an easier time getting to you without glass.  Glass makes them nervous.
Watercolor on 140 lb cold press
$350 $350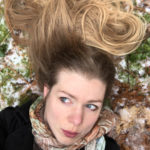 Amelia Leonards
Amelia Royce Leonards is a graduate of Montserrat College of Art in Beverly, where she spent four years baffling her peers and professors with drawings of goddesses and antlered women. Her work is influenced by the beauty of ancient myth, folklore, and the natural world around us. She can usually be found somewhere deep in the woods, sketching odd creatures and eating chocolate chips.