WANT TO BUY EARLY?
Unlock 30 minutes early on our mailing list
Fiercely Blooming
by Emerald Barkley
Fiercely Blooming
Original watercolor flower painting by Emerald Barkley
Peonies are one of my favorite flowers, in part because their joy refuses to be contained. They start off as small, tight buds that burst into massive blooms, often with an absolutely absurd number of petals. But peonies know who they are – they are huge, and they are messy, and they are vibrant, and they certainly don't care that they aren't as tidy as other, more reasonable flowers. They exist perfectly as they are.
When I look at peonies, I see the joyful radiance that I want imbued in my own life. I, too, wish to turn my face to the sun, beautifully messy and ridiculous, and with a joy that couldn't possibly be contained.
Fiercely Blooming is an 8″ x 10″ original watercolor painting on Arches 300 lb. hot-pressed paper.
This piece will ship matted and unframed.
More originals on EDO:
Other ways to collect and support my work
Stay in touch:
$500 $500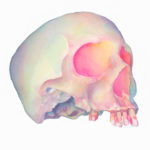 Emerald Barkley
Emerald Barkley is a watercolor and mixed media artist from Northern California. Emerald uses a colorful palette and personal symbolism drawn from the natural world to create work about mindfulness, ego, and mental health.
They enjoy hiking and peach cobbler.

https://www.patreon.com/emeraldbarkley