WANT TO BUY EARLY?
Our collectors get 30 minutes to buy before anyone else.
Feeding the Cephalopods in the Park
by Omar Rayyan
A little something in celebration of OCTOber
watercolor on paper
image size is 5.5″ wide x 6.5″ tall
unframed
$500 $500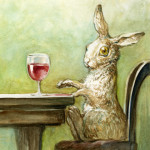 Omar Rayyan
Omar Rayyan is an artist/illustrator living in the woods somewhere in the the middle of Martha's Vineyard.
Sometimes he wears shoes.
www.studiorayyan.com



EXTENDED GALLERY
Beyond the every day, these are pieces a little bit more than our daily offering.