WANT TO BUY EARLY?
Unlock 30 minutes early on our mailing list
Farewell
by Julia Griffin
For the Month of Fear 2017 challenge, "Shiver."
"But soon," he cried, with sad and solemn enthusiasm, "I shall die, and what I now feel be no longer felt. Soon these burning miseries will be extinct. I shall ascend my funeral pile triumphantly, and exult in the agony of the torturing flames. The light of that conflagration will fade away; my ashes will be swept into the sea by the winds. My spirit will sleep in peace; or if it thinks, it will not surely think thus. Farewell."
– Mary Shelley, Frankenstein
$175 $175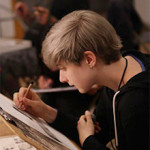 Julia Griffin
Julia is an artist and illustrator based in NYC. She specializes in mythology, fairytales, and meticulously rendering things in colored pencil. She has shown her work at the Society of Illustrators, Helikon, Haven Gallery, and Light Grey Art Lab.