WANT TO BUY EARLY?
Unlock the Add To Cart button
30 minutes early
Evening Sun
by Sam Hogg
'It was easy to lose yourself in the ochre bloom of light off the rocks, oranges set ablaze in the evening sun. From here, Ravahn could be a true paradise. The sails of the next ship snapped lazily in the wind and drew its cargo to the docks. A small pack of dockhands would descend upon it, dragging whatever forbidden wares were stashed within its hull into the vermillion light. From here, it was almost easy to forget this was a pirate's paradise.'
Approximately 6 x 4 inches , mixed media (acrylic and ink) on illustration board.
Complete with a rustic teal frame, inspired by the place in the image, Ravahn. Image is part of the Whaler Girl project.
Height: 6 inches
Width: 4 inches
Surface: illustration board

$275 $275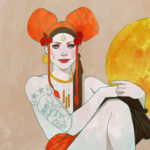 Sam Hogg
With a love of fantastical and narrative imagery, illustrator and concept artist Sam Hogg's career has spanned a multitude of genres across the entertainment industry. She has worked with clients such as Playground Games, Blizzard, Dark Horse Comics, Critical Role, Rocksteady and many more over the course of her 10-year career. Beyond her professional work, she can be found bringing her elegant, feminine aesthetic to a dark fantasy world of whalers and pirates in her personal project, The Whaler Girl.
EXTENDED GALLERY
Beyond the every day, these are pieces a little bit more than our daily offering.