WANT TO BUY EARLY?
Unlock 30 minutes early on our mailing list
Espérate! (Wait!)
by Dianita
Juanita's mom was trying to take a nice photo of Juanita and Benito. It was almost impossible to keep them still! Juanita  pushed the giant winged jaguar but he kept headbutting her once and again, purring non-stop. The little girl laughed loudly saying "Espérate!" (wait!) while maintaining her balance. She didn't want to fall in the mud. Her mom took over 30 photos, at least one came out clear!
Juanita and Benito are 2 characters very dear to me. I created them back in 2020 as a little tribute to kids in my home state (Veracruz, Mexico). Veracruz and many states in Mexico have Afro-descendant populations. I wish to make a special tribute to the girls too or any curly haired person, no matter their gender. Society is always telling them that their curly hair or the way they look is not "desirable".
These characters represent so many things from the state that I grew up in. I imagine that they live in the rainforest of San Andrés Tuxtla where suddenly winged jaguars decided to return. With Juanita, my wish is to represent Afro Mexican kids in Fantasy. I like to portray her as a happy girl who loves books and the environment. She also rocks her wild curls because she lives close to the beach.
I think this painting represents more for me than what it shows. A child and a winged jaguar are not that big of a deal, but isn't that the magic in Fantasy? There are many secret meanings in the smile of a mysterious kid with a magical friend.
Oils on paper mounted on board.  The size is 8in x 10in and comes framed to approx 10in x 13in.
Images taken before the application of the gloss varnish. Colors may vary between different devices.
For international orders, please remember that countries like the UK and the EU might charge a customs fee or taxes to release your package. It's the buyer's responsibility to cover VAT and any other fees generated. Thank you for your understanding.
Size: 8in x 10in

$395 $395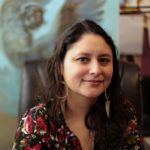 Dianita
Dianita is a fantasy artist born in Veracruz, Mexico. She has found that Fantasy provides her with the perfect language to portray her deepest emotions. It's where she finds freedom to explore fears, hopes and that wish for connection between all living creatures and our world.

Cover artist for Mermaids Monthly magazine (April 2021). Artist for "The Unbridled Spirit Tarot" (Llewellyn, 2024).