WANT TO BUY EARLY?
Unlock 30 minutes early on our mailing list
Ego
by Kelley Hensing
It's been a while since I did a portrait, I started with sketching some faces until a character started to emerge. She was looking out at the viewer yet appeared as if she was off somewhere else in her thoughts, contemplating something important. I felt like putting a little demon on her shoulder, and then balanced it out with a cherub type creature on the right. What emerged was a picture of the balance between our internal voices, as we struggle to choose between our dual natures.
Frame is mint green with gold embellishments. Vintage and left as found, so a little worn around the edges and tiny cracks here and there. Ideal for an old-world theme.
painting is 7.5×9.5, with frame 11.5×13.5
$360 $360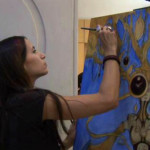 Kelley Hensing
Kelley creates new pieces every month! Feel free to contact her for a current list of work available from the studio. She accepts commissions both big and small, and will be happy to create something strange and special to match your price range.

Bio: Kelley is inspired by the mysterious. She grew up in a house by the woods surrounded by animals and wilderness, so many of her themes bring together strange nature, mortality and spirituality. Using archetypes of characters from folklore and myth as well as her own stories, she enjoys portraying unusual tales that symbolize our emotions and fears.

Kelley is an artist residing in Brooklyn, NY. She earned her MFA from the School of Visual Arts and her BFA from the Rhode Island School of design. Her favorite mediums are oils on wood and pencil on paper, and she loves to create her work by hand. Her favorite genres range from gothic and steampunk to classic fantasy and legends. Traveling is her only other passion equal to a career in art and is a vital component in inspiring her work.