WANT TO BUY EARLY?
Our collectors get 30 minutes to buy before anyone else.
Dorthy
by The Tracy Piper
The Tracy Piper present's 'Dorthy' for Every Day Original. This wee original painting is from my 'No F*@ks Given' miniseries. A series of tiny paintings of women not smiling, it's that feeling of not caring about anything anymore… Dorthy because we ain't in Kansas anymore.
The Tracy Piper
Dorthy, 2019
Acrylic painting on Canvas
10 x 10 x 1.5 in
Web: www.thetracypiper.com
Insta: @thetracypiper
YouTube: The Official Channel of The Tracy Piper
Height: 10 in.
Width: 10 in
Depth: 1.5 in
Surface: Canvas

$200 $200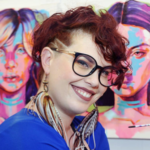 The Tracy Piper
The Tracy Piper (b. Oakland, CA, 1987) is a female-identified, contemporary painter based in San Francisco, CA. Best known for her vibrant portraits and figurative acrylic paintings, Piper depicts challenging social justice issues in an abstract-realist style. She has shown at SCOPE and SELECT in Miami, FL; stARTup Art Fair in San Francisco and Los Angeles, CA; SCOPE New York, NY; and exhibits internationally. In 2017 Tracy competed on the GSNTV show "Skin Wars: Fresh Paint" and emerged victorious! Most recently, Tracy completed six murals in the Bay Area to show solidarity with the Black Lives Matter Movement and promote community safety during COVID-19. She holds a Bachelor of Arts in Illustration from California College of the Arts and is represented by Voss Gallery.

"I jumped headfirst into fine art with a mission to make art that matters. It's a passion driven from my own experiences and hardships, and if I can provide a platform with a paintbrush then I am doing something right in this world. Every piece strives for connection, a place for community and dialog about the world around us." —The Tracy Piper



EXTENDED GALLERY
Beyond the every day, these are pieces a little bit more than our daily offering.