WANT TO BUY EARLY?
Unlock 30 minutes early on our mailing list
Corporeal
by Kelly McKernan
cor·po·re·al
kôr-pôr′ē-əl
a.
Of,
relating
to,
or
characteristic
of
the
body.
b.
Existing
or
manifesting
in
bodily
form.
---
"Corporeal" was painted with watercolor and gouache on hot press illustration board, measuring 5.5″ x 9″ including an unpainted 0.25″ border.
$150 $150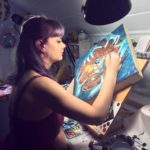 Kelly McKernan
Kelly is a gallery artist and freelance illustrator recognized mainly for her ethereal watercolor paintings. She frequently shows with galleries such as Gallery 1988, Spoke Art, Modern Eden, and Arch Enemy Arts and is an active member of the internationally recognized Prisma Artist Collective.