WANT TO BUY EARLY?
Unlock 30 minutes early on our mailing list
Changing seasons
by Dianita
What happens to Persephone when she has to move from the Underworld to the world above and vice versa?. She was taken against her will and then Zeus, Demeter and Hades solved this issue by a negotiation about her new life. How unfair was this?
I imagine Persephone being out of herself, clinging to whatever that made sense during the time to go up or down, to catch with whatever she needed to do in the place she was supposed to be at. I may be just overthinking, but… how did she feel? We know the story from the perspective of others, but what about her own?
It breaks my heart to think about it.
This is a 5in x 7in oil painting on board. It comes framed and ready to hang.
Framed: 9.75in x 11.75in
Find more of my work at: https://www.artbydianita.com/
Width: 5in (9.75in framed)
Height: 7in (11.75in framed)
Surface: Da Vinci Pro Panel

$275 $275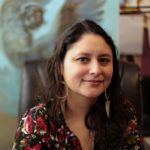 Dianita
Dianita is a fantasy artist born in Veracruz, Mexico, currently living in Texas, and member of the Mexicanx Initiative (2018). She has found that Fantasy provides her with the perfect language to portray her deepest emotions. It's where she finds freedom to explore fears, hopes and that wish for connection between all living creatures and our world.

Cover artist for Mermaids Monthly magazine (April 2021). Artist for "The Unbridled Spirit Tarot" (Llewellyn, 2024).