WANT TO BUY EARLY?
Unlock the Add To Cart button
30 minutes early
Cardinals
by Danny Schwartz
For a time when I was small, my favorite toy was a small plastic cardinal. I loved his bright red color and how if you shook him a little, he made a happy tweeting noise. I took him everywhere I went — we were inseparable in the way that small children are with their favorite toys. But then I lost him. I have no idea what happened to him. He was there one day and then he was just gone. My folks and I looked for years with no luck. Our Hail Mary was my mother's insistence that when we moved away from my childhood home, he'd be sure to turn up — but when I was about 12 and we did pack up and move on, we still couldn't find him. He's lost to the ages now, and, you know, as a grown adult person, I am long beyond the need for a small plastic bird toy. But to this day, somewhat absurdly, whenever I see a cardinal I can't help but feel a twinge of sadness.
We are living through a season of loss right now, and it's hard sometimes not to dip into endless melancholy. But early in this quarantine (before all the air conditioners went in), I noticed that with so many people and cars off the streets in the city, I could hear all kinds of songbirds singing during the day. It was a beautiful silver lining to our terrifying new reality. I really have no idea if there were any cardinals singing outside my home in Brooklyn, but I can hope.
6″ by 9″, acrylic on illustration board (12 x 15 inches framed)
Height: 9"
Product Width: 6"

$300 $300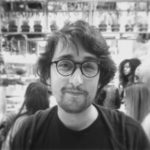 Danny Schwartz
Danny Schwartz is an illustrator, painter, and character designer living and working in Brooklyn, New York.

Other ways to support my work:
Print Shop: https://www.inprnt.com/gallery/dannyschwartzart/



EXTENDED GALLERY
Beyond the every day, these are pieces a little bit more than our daily offering.