WANT TO BUY EARLY?
Unlock 30 minutes early on our mailing list
"Believe"
by Mary Ancilla Martinez
This is my painting called Believe, and is about the most important truth: Know Thyself. Believe is about knowing who you are, and believing in yourself no matter how much the rest of the world wants you to believe otherwise. The distractions that are all around us, pulling us away from our true selves are represented by the origami birds–these distractions can be beautiful and tempting at times, just as much as they can be unattractive to us. They are paper, and not the "real thing". The actual bird feather she holds close to her heart represents her true self, her sovereignty and strength. It also serves as a reminder and touchstone to herself to Believe.
Oil on wood 36″x 24″
Height: 36"
Width: 24"

$1,500 $1,500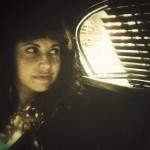 Mary Ancilla Martinez
I am a New Mexican born artist who enjoys painting the misty and mystical, wild and free ethereal places where unseen greets seen, where dark weaves light, and land meets sea and sky. I appreciate the exploration of dreams, mythology, archetypes, alchemy and metaphysics. I am deeply inspired by nature….secret whispers from the desert winds, the language of trees, the power and magnificence of animals, the dynamism of the elements, and the infinity of the stars and cosmos. My work is primarily figurative and narrative, created mainly in oils. My current focus examines personal sovereignty inspired by Greek, Celtic, Spanish, French, African and Indigenous mythology. I strive for meaning and intention in each piece, and simultaneously enjoy the engagement found in pure process. I seek a feeling of transcendence in my paintings and desire for my work to touch the viewer with a sense of the divine.