WANT TO BUY EARLY?
Unlock 30 minutes early on our mailing list
Bambiraptor
by Kaitlund Zupanic
Bambiraptor was such a delicate and beautiful little specimen to paint, from the delicate bones and structure to playing with a palette knife to get the textured ground and foliage. This piece was painted at The Museum of Ancient Life, here in Thanksgiving Point Utah.
A little background about Bambiraptor from – https://newdinosaurs.com/bambiraptor/
Bambiraptor is a bird-like dinosaur which ran on 2 legs and lived approximately 70-72 million years ago, during the late Cretaceous Period. It was first discovered in 1993 by Wes Linster, a 14 year old who had been out hunting fossils. He found this fossil in Glacier National Park in Montana, while his parents and him were out looking for fossils. His discovery prompted the excavation of this dinosaur. When it was fully recovered, it was discovered that its fossils were 95 percent complete. This excited paleontologists because the complete nature of this dinosaur will give them clues about other dinosaur species.
Bambiraptor measures 11 3/4″ on a round masonite panel in oil
$500 $500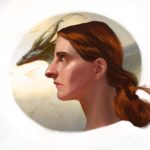 Kaitlund Zupanic
A fantasy illustrator of the dragon varaity.