WANT TO BUY EARLY?
Unlock 30 minutes early on our mailing list
Asteria
by Kaysha Siemens
Asteria, titan goddess of falling stars, astrology, and oneiromancy, and mother of the goddess Hekate.  Fleeing Zeus' wrath after the fall of the titans, she transformed herself into a quail to escape, and leapt into the sea, becoming the island of Delos.  Later her sister Leto, feeling from Hera, found shelter on Delos and there gave birth to the twins Artemis and Apollo.
The gold leaf triangular element is the letter delta for Delos, as she was often identified simply as 'Delos' rather than Asteria in ancient Greek artwork.  It may also be read as the alchemical symbol for fire.
Oil and 23k gold leaf on board, 5 x 7 inches.  Outer dimensions of frame are 7 x 9 inches.
Product Height: 7 inches
Product Width: 5 inches

$435 $435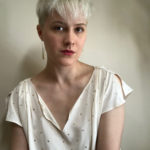 Kaysha Siemens
I was born and raised in Canada, and now make my home near Asheville, NC, USA. My work is primarily figurative and narrative. I work mainly in oil and graphite. My current primary focus is Mnemosyne, an ongoing project inspired by Greek myth.

My goal is the object of beauty, but that goal is achieved through engagement in process, and neither aim is worthwhile without meaning and intention. I seek to talk about the ordinary with the language of story, to arrest with exquisite imagery, and ultimately to leave viewers with a feeling, a lingering sense, that they have had a brush with the sublime.