Rubeosaurus
by Owen Weber
Rubeosaurus was a North American ceratopsian from the Late Cretaceous period, about 74 million years ago.  This dinosaur was closely related to Styracosaurus in that they both have one horn above their nose and many horns along their frill.  These were beautiful creatures, ceratopsians, with so many different types of head ornamentations and horn configurations.  I am slowly working on painting them all, and Rubeosaurus seemed like a fun dinosaur to paint now.  I wish there was more to say about this dinosaur but not many fossils have been found, so information is limited.
Product Height: 5"
Product Width: 7"
Product Surface: Masonite

$250 $250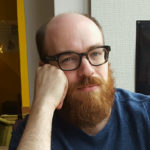 Owen Weber
Owen William Weber is a working illustrator, living in Astoria, NY. He attended Hartford Art School, graduating with a BFA in Illustration and a minor in Art History. Much of his commissioned work is based in the Fantasy genre. His personal work has evolved into mostly paintings of dinosaurs and other prehistoric creatures. His work is primarily painted traditionally using oils on masonite.

Recently, Owen's work has been included in such annuals as Spectrum 23 and 26, The Society of Illustrators 54, Illustration West 44 and 52, Infected By Art vol. 2, 3, 4, 5 and 6, and the Art Renewal Center's 2013/2014 and 2014/2015 Annual Salons. He lives with his wife, Sarah, their daughter, Dagmar, and their black cat, Mim.



WE EXPANDED!
Check out our new Artsy gallery with more work from your favorite artists.