WANT TO BUY EARLY?
Unlock the Add To Cart button
30 minutes early
Zoya
by PierreSantos
The Spirit of Love, Zoya resides deep within the rainforest
Zoya also rules over cleanliness, luxury, and refinement. She is presented as a strange bird woman with a large beak her materialistic tendencies make her big on gifts but also jealous of other beings.
Although she usually appears quite sweet, she can be very particular and must be asked for help in a way she approves of
Zoya keeps a rare Qing Dynasty coin in the middle of her forehead given to her as an offering from wayward traveller
1/1
Materials: Polymer Clay, Oil paint, Acrylic paint, Marbles, Glass
Height: 20cm
Width: 15cm
Depth: 12cm
*comes wall hang ready
Product Height: 8'
Product Width: 6 inches
Depth: 5 inches

$425 $425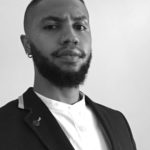 PierreSantos
Pierre Santos is a London based artist who constructs humanoid figures that traverse different cultures and points in human history
With his love of fantasy, the Ocean and nature Pierre's blurring of fact and legend, fiction and reality, creation and myth create truly original art pieces that are hybrid entities taking on the form of sculpture.

Much like Mary Shelleys Victor Frakenstein, who gave life to a humanoid from non living matter, Pierre takes from myth, legend and religions of old and pieces fragments of each together into new transformative identities.

Pierre's process involves archiving imagery ranging from ancient art, diverse cultures, alternative religions, spirituality, dwellings at the bottom of the Ocean and just the plain absurd

Through all of this Pierre tries to translate with wisdom through the medium, which he knows… sculpture



EXTENDED GALLERY
Beyond the every day, these are pieces a little bit more than our daily offering.