WANT TO BUY EARLY?
Unlock 30 minutes early on our mailing list
Year of the Jackalope
by Shirley Jackson
I grew up in the American West and spent some of my childhood living in southeast Wyoming. Further north in Douglas, Wyoming is the home of Wyoming's unofficial state mythological creature: the jackalope.
The jackalope (a jackrabbit with deer antlers) is a North American cryptid, and was created in the 1930s by Douglas Herrick and his brother who made and sold taxidermy jackalope mounts.
Reinterpreting 2023's Year of the Rabbit as the Year of the Jackalope is my own self-made connection to the Lunar New Year tradition that allows me to infuse my Asian heritage with my American roots.
This painting features a stylised jackalope mask coupled with Prairie-Fire, Wyoming's state flower.
Details:
Acryla gouache (metallic gold, black, white) and acrylic (red) on basswood
Approximately 8.5 x 6 inches
Comes ready to hang!
$250 $250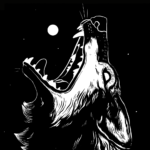 Shirley Jackson
Shirley Jackson aka LIONINTHETREES is a Black and Korean artist residing in Central California with her German Shepherd Dog, Eden and the spirit of her iguana, Ness (RIP).

Shirley holds a BFA in Visual Communications from Weber State University. Her body of work heavily features animals and the natural world infused with magic, folklore, and her roots as a printmaker. She works in both traditional and digital mediums; and has now danced her way into product design.

Shirley is also the pioneer when it comes to running Kickstarters to fund enamel pin projects. Her cutie Scrub Jay pin which debuted in 2016 on Kickstarter kicked off the enamel pin Kickstarter trend.

Shirley's mantra when it comes to creating is: Own, love, and believe in what you create.

1. Be responsible for the work you bring into the world.
2. Love what you do.
3. Believe in yourself and the work you create.