WANT TO BUY EARLY?
Unlock 30 minutes early on our mailing list
Wood Nymph
by Christopher Moeller
The Wood Nymph
A glint of her hair or a flash of her shoulder —
That is the most I can boast to have seen,
Then all is lost as the shadows enfold her,
Forest glades making a screen of their green,
Could I cast off all the cares of tomorrow—
Could I forget all the fret of today
Then, my heart free from the burdens I borrow,
Nature's chaste spirit her face would display.
     -Ellis Parker Butler
[hr]
$200 $200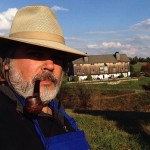 Christopher Moeller
For twenty-six years I used my art to build imaginary worlds, populated by fantastic creatures. More recently, my desire for invented worlds has given way, unexpectedly, to a love affair with this world. I am experimenting with new approaches, both in terms of subject matter and craft. I am developing my instinct for authenticity... for things with real power. I find myself drawn to landscapes, both outward and internal, that feel real. My paintings document a slow, often frustrating, recommitment to the fundamentals of art, and a reconnection to the human experience.