Vortex Stalker
by Winona Nelson
Seeing the stalker of the wilds between dimensions is a privilege even its prey its most often denied.
6 x 6 inches, graphite powder and pencil on Clayboard.
Product Height 12": 6 inches
Product Width 16": 6 inches
Product Surface Linen: Ampersand Claybord

$450 $450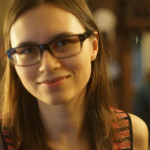 Winona Nelson
Freelance artist based in Philadelphia, working in illustration, concept art, comics, and fine art.