WANT TO BUY EARLY?
Unlock 30 minutes early on our mailing list
Untouchable
by Reiko Murakami
Originally this piece started out as a figure drawing to capture the strong expression of a boy being scolded by his strict mother. I wasn't so sure what exactly in the boy's expression caught my attention at the moment, but as I drew I felt it was a gesture of both obedience and disobedience. He stood still, not being able to do anything but to listen to his mother, yet he is not giving up. The way he was fighting quietly hit me. Things can surround us and scream at us, but indeed, they cannot control our mind.
3×3 Mixed media in a 7×7 frame with a stand shown.
$200 $200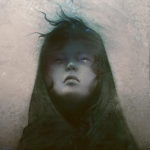 Reiko Murakami
Reiko Murakami, also known as Raqmo is a U.S. based concept artist and illustrator specialized in surreal fantasy and horror characters. Her work has been published in Spectrum, Infected by Art, ArtOrder Invitational: The Journal, Exposé, 2D Artist and many others.

Print shop: https://www.inprnt.com/gallery/raqmo/
Patreon: https://www.patreon.com/reikomurakami